TOP
Diesel Engine Business Division
Authorized and Genuine Part Sales Agency of HSD Engine
Diesel engine manufacturer Licensed by MAN Energy Solutions, WinGD (ex: WARTSILA)
SPARE PARTS >
TECHNICAL SERVICE >
PRODUCTION RANGE
HSD-MAN (2-Stroke)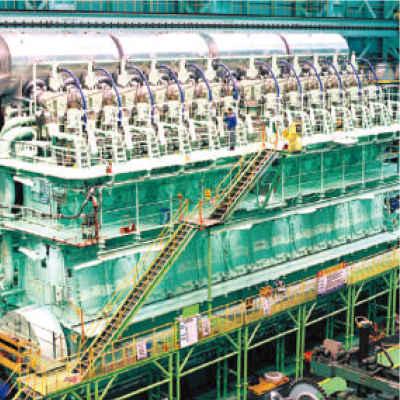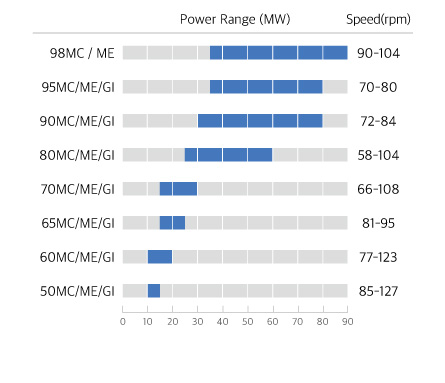 HSD-WinGD (2-Stroke)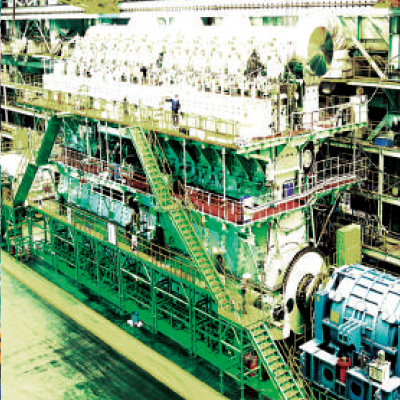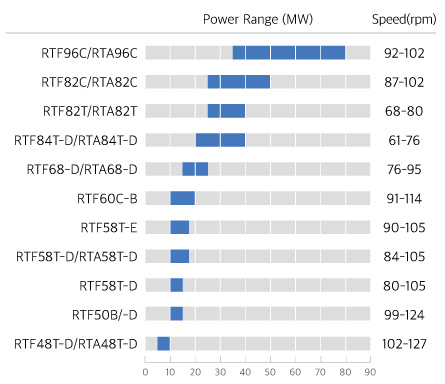 HSD-MAN DIESEL (4-Stroke)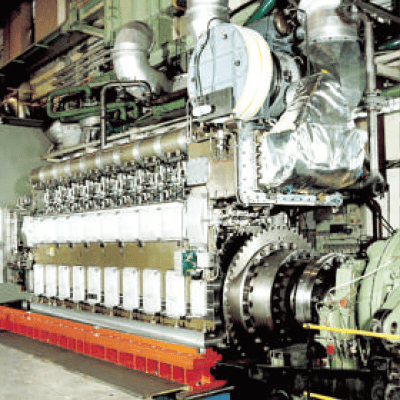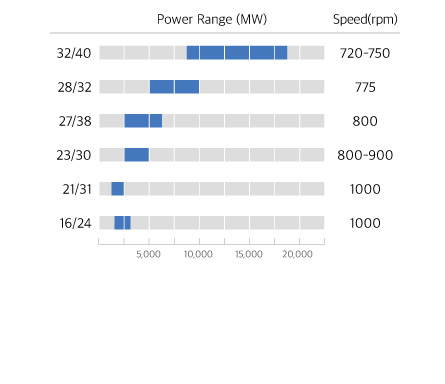 SPARE PARTS
2-stroke Engine Major Spare Parts
4-Stoke Engine Major Spare Parts
TECHNICAL SERVICE
TECHNICAL SERVICE 01
ELECTRONICALLY CONTROLLED ENGINE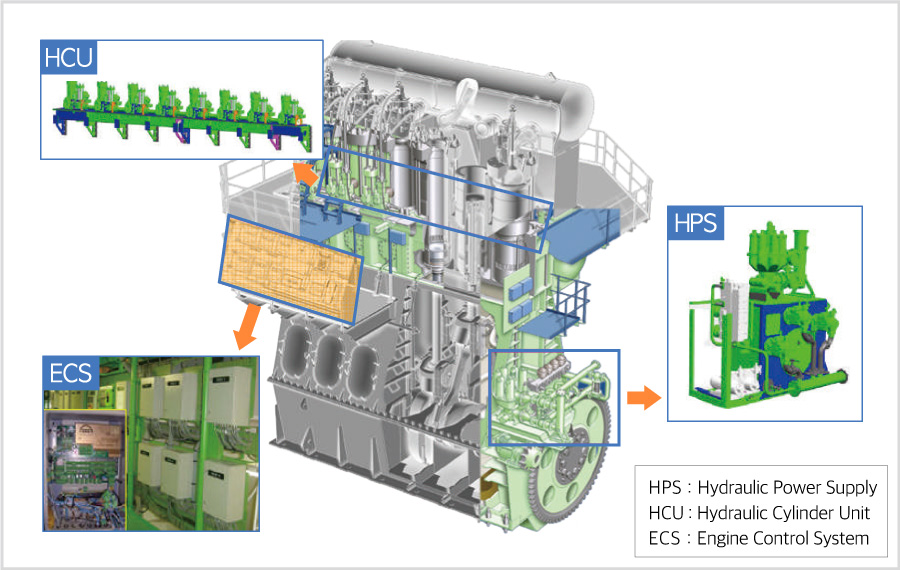 – Main Components
Hydraulic Power Supply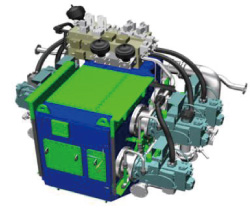 Supply the necessary high-pressure hydraulic oil through driven pumps
Consists of;

– Engine driven pumps
– Electrically driven pumps
– Safety and accumulator block
– Filter Unit and high pressure pipe
Hydraulic Cylinder Unit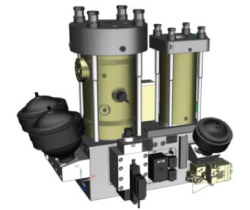 Deliver the hydraulic oil to each cylinder so as to actuate the fuel and exh. valve
Consists of;

– Hyd. Oil distribution block with FIVA valve
– Fuel oil pressure booster with ELFI
– Exhaust valve actuator with ELVA
Engine Control System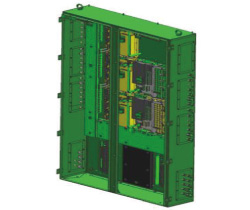 Human Machine Interface
Engine Interface Control Unit
Cylinder Control Unit

– Alpha Cylinder Lubricator
– Starting Air Valve

Communication Network
Auxiliary Control Unit
Hydraulic Cylinder Unit
Engine Control Unit
Hydraulic Power Supply
Tacho System
– Maintenance and Commissioning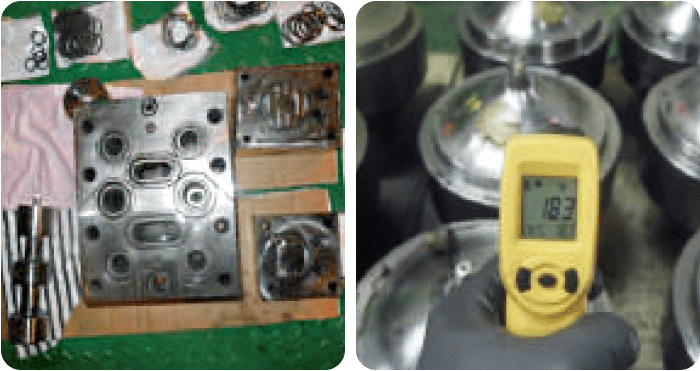 1. HYDRAULIC CYLINDER UNIT
· Fuel booster unit
· Exhaust actuator
· Accumulator
· HPS P/P Recondition / Upgrade
(HS3->HS4)
· FIVA valve
· Cylinder lubricator
· Distributor block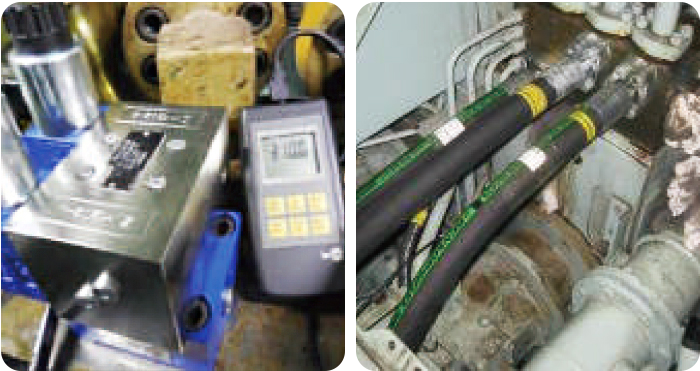 2. HYDRAULIC POWER SUPPLY
· Accumulator block
· Hose & Compensator
· Accumulator
· Cartridge Valve
3. ELECTRIC COMPONENT
· Electric control panel
· MPC & MPC-10
· Level switch
· Cable and others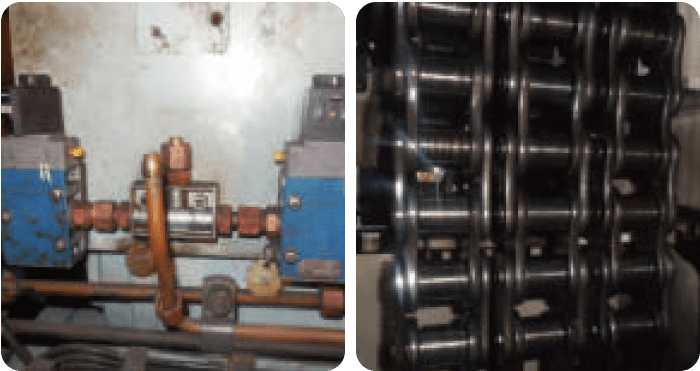 4. PNEUMATIC & CHAIN PART
· Pneumatic system
· Chain re-tighten
· Guide bar
· Main Starting Valve
5. CALIBRATION & FUNCTION TEST
· Inductive sensors
· Swash plate positioner
· Exhaust bypass system
· Telegraph handle
· Tacho system
· Safety device
6. CONFIRM TRIAL
· Engine starting test
· Adjustment of fuel quality offset
· Check of cylinder lubrication feed rate
· M/E performance during confirm trial
TECHNICAL SERVICE 02
B-WACS
B-WACS is the most accurate BWM (Bearing Wear Monitoring)
System in the world, which is developed by HSD Engine Co., Ltd.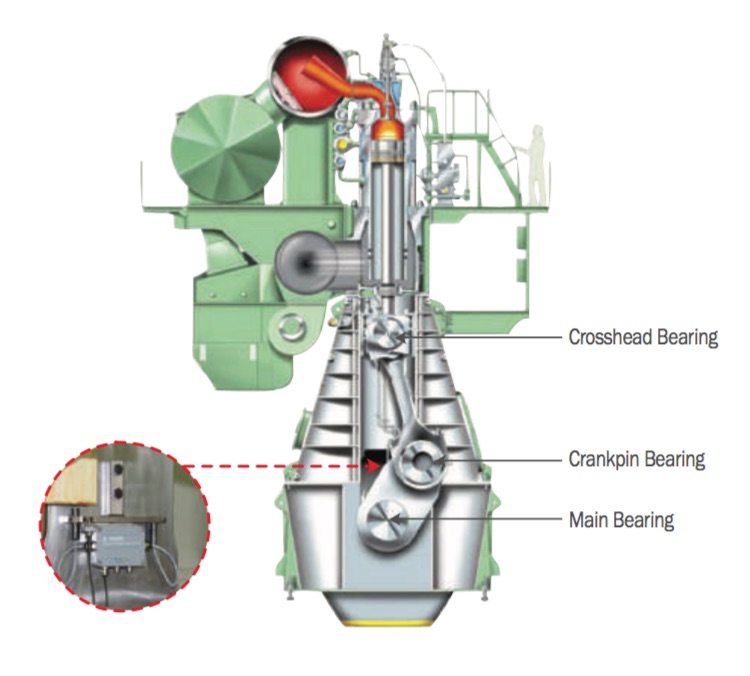 B-WACS detects the failure of the three major bearings of a large two stroke diesel engine before engine suffers from relevant damages.
The principle of B-WACS is to measure the change of BDC (Bottom Dead Center) level to detect any abnormal bearing condition during operation.
TECHNICAL SERVICE 03
O-WACS
O-WACS is a WIO(Water in Oil) system for monitoring water contents in the lubricating oil, which is designed by HSD Engine Co., Ltd.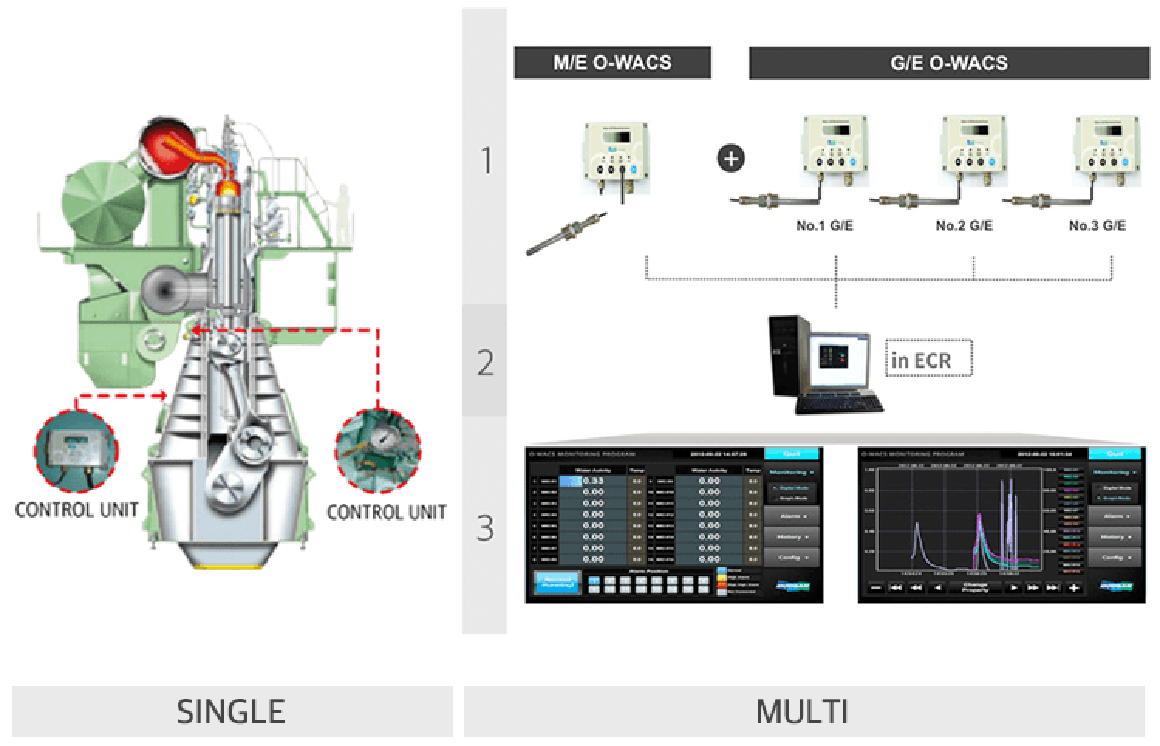 TECHNICAL SERVICE 04
ALPHA 5 YEARS MAINTENANCE PACKAGE
Based on our service experience and our guideline, the following parts must be replaced every 5 years or 32,000 R/H to ensure optimal and trouble free operation.
Based Recommendation Items
Category of kits
Description
Service kit for alpha lubricator

Membrane Accumulator (Big)
Membrane Accumulator (Small)
Solenoid valve on lubricator
Inductive sensor in lubricator
Lubricator check valve (5bar)

Maintenance kit for alpha lubricator

Lubricator OVHL. O-ring set

Lubricator pump station service kit

Spiders of pump for booster pump
Seal of pump for booster pump
Suction filter element

Pressure filter element

Pick-up for BCU (Back-up Control Unit)
Pick-up sensor for Flywheel side
Inspection & Function Test
Angle Encoder
Pick-up & Load Transmitter
Booster Pump
Leakage test of solenoid valves
Visual inspection for feed-back sensor
Check of alarm condition
Injection timing & LCD function
UPS battery
TECHNICAL SERVICE 05
PNEUMATIC 5 YEARS MAINTENANCE PACKAGE
The pneumatic control system is to be in reliable condition for safe berthing and leaving. That's why engine manufacturer recommend periodical maintenance every 5 years.
Supply & Work Scope
Repair Kit for

– All of pneumatic valves
– All of reversing cylinders
– All of VIT actuators

Recommended spare parts List as per engine type
Effect & Benefit
Safe Operation
Warranty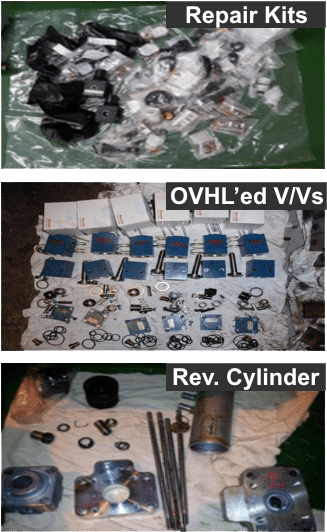 TECHNICAL SERVICE 06
EEXI EPL
In order to reduce Greenhouse Gas of existing vessels, IMO has set EEXI on MEPC 76. All existing vessels which do not comply with EEXI regulation should apply technical measures such as EPL(Engine Power Limitation), fuel change and/or energy saving devices. HSD Engine Power Limit(EPL) ensures the competitive total cost, reliable and simple solution with IMO regulations compliance.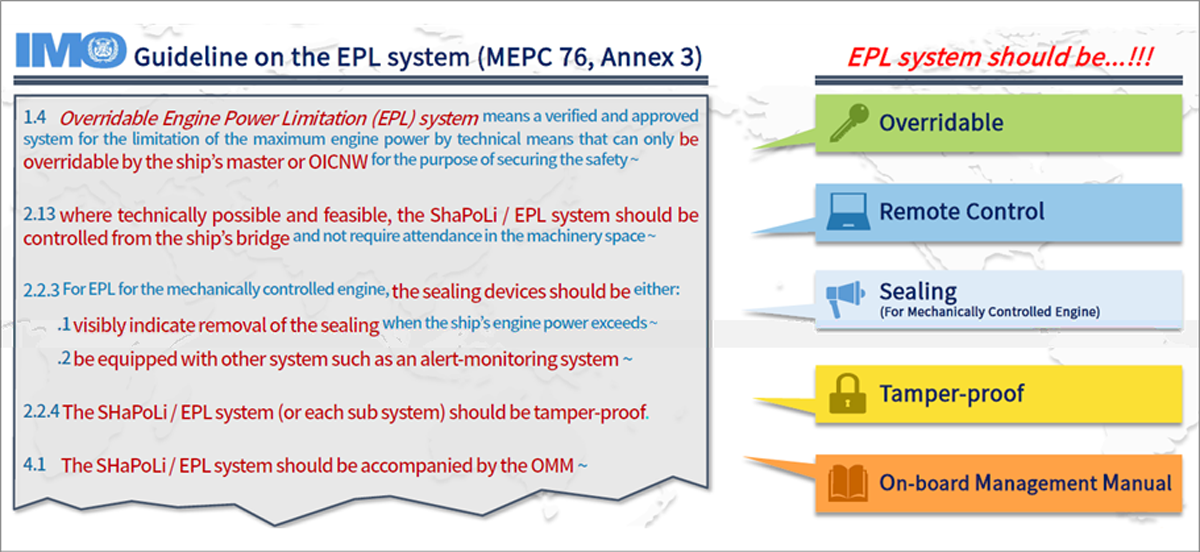 TECHNICAL SERVICE 07
In Situ type NOX ANALYZER(CEMS)
NOx CEMS makes you ensure SCR performance with IMO regulations compliance, competitive total cost and reliable continuous data monitoring / recording.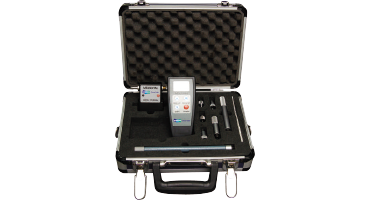 Monitoring SCR Performance
Measurement of exhaust gas emission according to MARPOL Annex VI and NOx Technical Code 2008
Monitoring SCR catalyst condition/degradation
Periodic Spot Check
Avoid carrying out manual spot check
- Equipment Rental, Specialist travel etc.
Easy to use and economical on-board gas calibration kit
Remote Control & Diagnosis
Remote operation through proprietary software
Log functionality which logs various events like warnings, errors, system status, measured gas concertration
Monitoring Ammonia Slip (option)
Avoid build-up of ABS (Ammonium BiSulfate) which eventually can damage the exhaust system
TECHNICAL SERVICE 08
DRY-DOCK SUPERVISION SERVICE
HSD Supervision Service
1 Supervisor
All of type for engine
Supervision Service details
01 Close inspection
incl. measuring
Piston Component
Bearing Condition
Cylinder Liner
Fuel Pump incl. Timing
Exh. Valve
HP Pipe
Alpha Lubricator System
02 Visual Inspection
Crank Case & Chain wheel
Gas & Scav. Air Receiver
Cam & Cam shaft
Top Bracing
03 Instruction & Education for crew
Job procedure
Emergency Operation
Finding root reason
Trouble shooting
Benefit & Output Safety
Safety
Engine operation
Work
Precaution
Improvement of crew's skill
Efficiency on OVHL. work
Detail Service Report
TECHNICAL SERVICE 09
ADVANCED MEASUTAL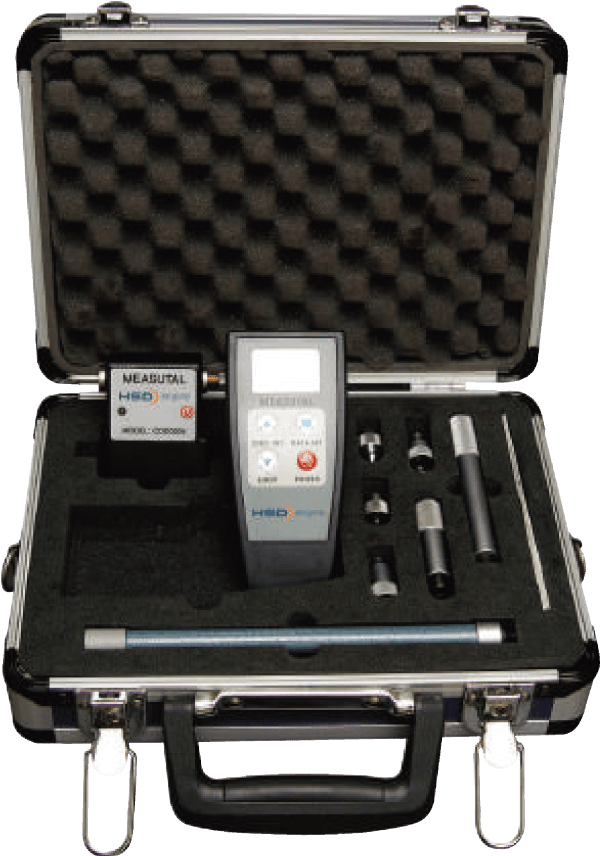 Introduction
Measutal® is a powerful and precise digital crankshaft deflection gauge.

It is fitted between the crank webs, the engineer takes all readings from outside the engine through wireless communication, without the drawbacks of heat, oil drop, etc.

The instrument consists of a measuring unit and a display unit. The display unit displays the deflection data and transfers data to Computer.